Eczema, Press
My Desperate Attempt to Find a Solution for My Baby who Suffered with Severe Eczema
Shaloah, 38, is a mother of 2 boys, a maker of natural skincare products and a graphic and website designer. "I love all things creative." Originally from Suffolk, in her early childhood she lived in Holland and Germany for a few years before settling in Essex for her education. Brighton is home now. Why did you […]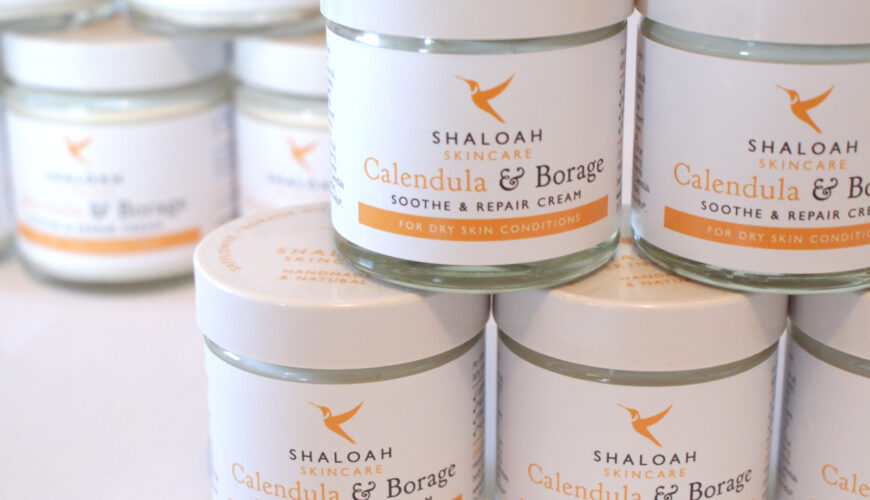 Shaloah, 38, is a mother of 2 boys, a maker of natural skincare products and a graphic and website designer. "I love all things creative." Originally from Suffolk, in her early childhood she lived in Holland and Germany for a few years before settling in Essex for her education. Brighton is home now.
Why did you move? "Whenever I visited Brighton I never wanted to leave! I'd always be planning my next trip. I love the diversity, the art, the music, the social scene, the sea, everything about it (other than the house prices)!"
Shaloah is now a designer and maker of a range of handmade skincare products, made using only ingredients that are natural, ethical and sustainable.
How did you build your business? "It all began from my desperate attempt to find a solution for my baby who suffered with severe eczema from 3 months of age. The whole of his face and body was covered in dry, cracked, itchy inflamed eczema and he would scratch until he bled. He would wake every hour at night with excruciating itching. It seemed that nothing would moisturise his skin. I was horrified by the solutions the doctors prescribed such as paraffin, steroid and petroleum based creams and it seemed that nearly all creams available on the high street were ladened with chemicals and harsh preservatives which would make his skin flare up even more! I started looking into natural alternatives and discovered the healing power of plants and began perfecting my 'Calendula & Borage Soothe and Repair Cream' which worked wonders on his skin. I had many family and friends who wanted to try the product and before long I found myself tailoring creams to suit a range of skin types and so the brand was born! As a graphic and website designer I designed my own brand, packaging, leaflets, did my own photography and created my own website."
What were your influences and who were your inspirations? "It was through my struggle that I became inspired. At the time I had no intention of building a business, it built itself, I look back now and am not sure quite how it happened! I hope that my story inspires others to not give up hope. For me it was as if God had answered my prayers. Answers come when you least expect it and in a way that you never imagined. Amazing and beautiful things can come from difficult times."
Where would you like to see yourself taking your business? "This business has come from nothing and is growing steadily all on its own. I think the effectiveness of my products speak for themselves and so I'd like to see where my business takes me rather than the other way around. I realise that some things we can't control so I'm trying to enjoy the journey."
What makes you passionate about your business? "I feel passionately that we need to return to our roots and get back to nature. The modern world takes away from that, we are so busy rushing around, the world is polluted, we are so wrapped up in technology that sometimes I think we fail to take notice of the simple, important things in life. I feel my products give people just a tiny bit of that back into their lives."
Where do you sell your products? "I sell directly to my customers on MY WEBSITE and on various craft sites such as Etsy and Ethical Market . I also do the occasional craft fair so I can interact with my customers. Despite having been approached by several retailers I have politely declined otherwise I'd have to increase my prices by at least 50% and I'd have to start producing a lot more and for me I think this would take the passion out of what I do. Everything is handmade and I'd like to keep it that way."
Have you got any other hobbies? What are they? "I love all things creative and have dabbled in mosaics, painting, drawing and jewellery making although don't have much time for those with 2 boys and 2 businesses!"
If you could be an animal, what would it be and why? "A koala bear, I am so busy in my life, I sometimes imagine how nice it would be just to sit in a tree and relax and take things really slooowly!"
What effect would you like your work to have on the world? "I'd like to bring some relief to those that suffer with skin conditions and hope that my story inspires others to not give up."
What makes you happy? "Being creative, making my skincare products, being with my family."
What are your biggest achievements? "My two sons and two successful businesses."
An inspiring message you'd have for humanity: "Our troubles are what shape us and our future, have faith and don't give up."
Anything more that you might have planned for the future, events, markets, upcoming promotions? "Keep in touch on Facebook to find out about events, markets and promotional offers."
This article was written by Hannah Molnar and published in the  Brighton Journal.